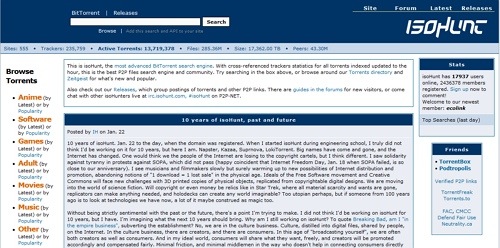 The classic BitTorrent site isoHunt was shut down earlier this month, with its owner Gary Fung having to pay $110 million dollars to copyright owners. However, it is now back under similar name of isoHunt.to, and it has been restored by a mysterious team that is unrelated to the original isoHunt owners.
The team, who have reported their doings to TorrentFreak, have apparently restored 75% of the site's original database. "isoHunt has been a great part of the torrent world for more than a decade. It's a big loss to everyone who used it over the years. Media corporations don't like innovative or competition and isoHunt's fate is one of the examples of how they deal with it," claim unknown sources who talked to TorrentFreak.
While it is good to know that the old juggernaut is back, we have to wonder if this new version and it's saviors will suffer the $110 million dollar fate that Gary Fung did. It also remains to be seen if it holds up to the legacy laid down by the original as well.
"Only time will tell whether users like the site or not. If they like the idea and keep coming back we'll be happy to develop the project even further," the mysterious team said.
[via TorrentFreak]
Related Posts