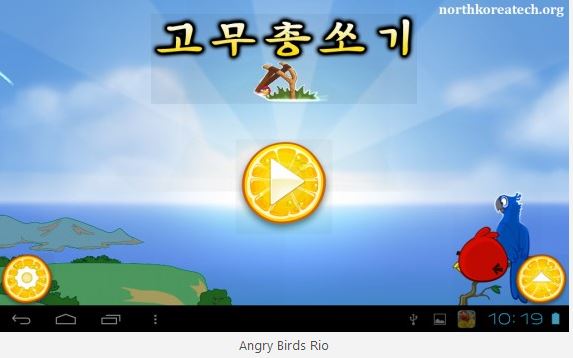 Angry Birds seems to have made its way to North Korea, however, the makers of the popular game have no idea how it got there. According to a statement by a Rovio representative, "Angry Birds Rio has not been localized into Korea, and Rovio Entertainment has no affiliation with the version of the game being shown on the Samjiyon tablet."
Samjiyon is the tablet North Korea released earlier this year, and has been getting fairly rave reviews since. Apparently makers of the Samjiyon tablet, which costs around $200 (US), have managed to pirate Angry Birds Rio for local use.
According to a review from a tourist in North Korea, the game has been available on the tablet since earlier this year. The tourist, only known as Michael, commented on the game being part of the software package. Another review, written by Ruediger Frank, also shows the game as part of the standard software package — meaning it comes preloaded on the tablet, which typically would require a tablet manufacturer to sign a deal with Rovio.
It is speculated that the tablet, which has the manufacturer listed as North Korea Computer Center, is more than likely manufactured in China and then loaded with North Korea friendly software. At $200, the tablet is attractive to tourists; it has a 1GHz CPU, 1GB RAM and 4GB internal memory with an SD slot. However, its price means that it still remains only in the hands of the wealthy in North Korea. And I bet they enjoy their Angry Birds.
[via The Washington Post]
Related Posts