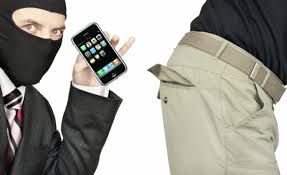 iPhones are really the pinnacle of innovation and technology. iPhones love people and people love them back, but among those people comes a section of people who use iPhones for not so very legal means.
According to NYPD, there were 16000 robberies of Apple products, mainly iPhones, in 2012, which account for 14% of all of New York City's crime. In 2013, so far, 45% of all crimes were cell phone thefts, and more than half attributed to iPhones.
NYPD further elaborates that such soaring rates in iPhone thefts are not happening by mere accident, but are the work of organized crime syndicates that are cognizant of iPhones' high resale value.
In order to control this new soaring crime, politicians and police want all pawnshops to keep records of all iPhones they purchase. In response, about 700 pawnshops have joined the initiative, but some are promptly rebuffing. The National Pawnbrokers Association claims that such an initiative would label all its customers 'thieves,' and that it is a privacy invasion of its customers.
Bill de Blasio, the new mayor of New York, wants Apple and other cell phone manufacturers to install 'kill switches' in their products, so that on report the stolen phones can be permanently shut off, rendering the phone virtually useless.
Tech firms are indisposed to do this, as they believe such an installation involves privacy risks and further security risks.
[via cnet.com]
Related Posts