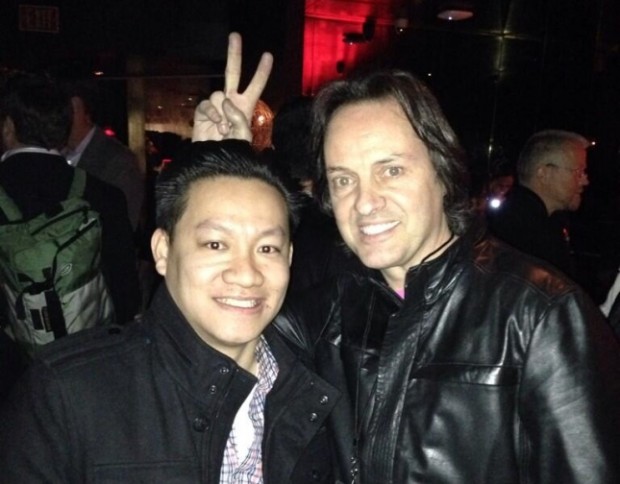 John Legere, CEO for T-Mobile, is well known for standing out in a tech industry that is populated by stiff suits and boring haircuts. The man isn't afraid to make a comment, talk trash about his competitors, or wear magenta-colored shirts, which has became sort of a trademark for him.
His most recent stunt occurred at CES, where he crashed a party being held by AT&T, a T-Mobile competitor and a company that Legere has made some comments about. Many comments, in fact. And all of them weren't nice.
Most recently, Legere bashed AT&T's new plan to pay T-Mobile users hundreds of dollars to make the switch back to AT&T. "This is a desperate move by AT&T on the heels of what must have been a terrible Q4 and holiday for them. I'm flattered that we have made them so uncomfortable! We used AT&T's cash to build a far superior network and added Un-carrier moves to take tons of their customers – and now they want to bribe them back," Legere wrote in a statement about the issue.
Safe to say, AT&T and T-Mobile are in a love-hate relationship… which has been more hate-hate recently. So it is no surprise that Legere is not welcomed at an AT&T party, from where he was escorted out when spotted.
He was spotted by Roger Cheng, who works at CNET, and took a picture with the CEO as well as tweeting about it. Roughly an hour later Cheng tweeted again as he saw Legere being shown the exit by those working for AT&T. "Oh wow, security just escorted @JohnLegere out of the party. AT&T is not happy with my tweet," Cheng wrote in the tweet.
For what it is worth, Legere says he was there just to see Macklemore perform. Yeah, we bet he was.
[via Android Authority, T-Mobile News Release]
Related Posts