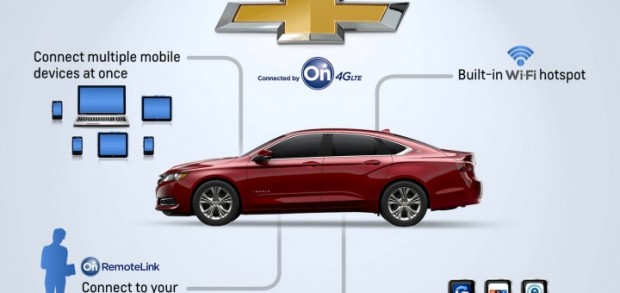 At a press conference last Sunday, General Motors announced that some of its new fleet of cars for 2014 coming this summer will include an upgrade to GM's OnStar technology and the company's in-car infotainment systems. The OnStar upgrade will include built in 4G LTE, which is aimed at allowing the owner to turn his/her car into a rolling Internet hotspot that is capable of powering a collection of new applications.
The first set of cars to include the new technology is the 2015 Chevrolet Corvette, Impala, Malibu, and Volt vehicles. In addition, the Chevrolet Trax in Canada will also come equipped with the new 4G technology.
Most of GM's Chevy 2015 models will include the new 4G upgrade, and for those interested, the 4G connectivity will be provided by AT&T. If you're an existing AT&T customer, you'll be able to add your car to your data plan. Furthermore, data plans for cars will also be available as a standalone option in the future, though you have to wait until then for AT&T to reveal the prices.
"We know that our customers rely on being connected on a daily, if not hourly basis, and they expect to be provided with the information and content they desire with no interruptions," said Mary Chan, president, GM's Global Connected Consumer.
The future of the connected car is slowly becoming a reality. Next, we'll have cars that drive themselves with minimal human interaction.
[via GM Authority]
Related Posts