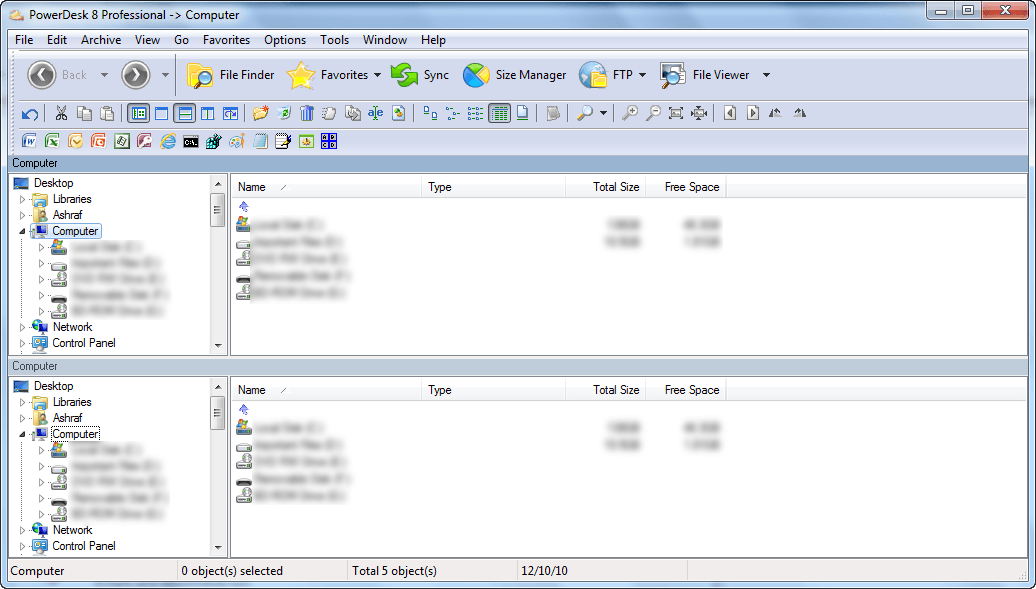 Update: This promotion is now over. Sorry to those that missed it! To avoid missing promotions in the future, consider subscribing to dotTech: RSS Feed | E-mail | Twitter | Facebook.
Software Description
The following is a description of PowerDesk 8 Professional as per the developer:
6 Powerful File Utilities for the price you'd normally pay for 1!

The winner of numerous awards and sparkling reviews from PC Magazine, Windows Magazine, and PC World, to name a few, PowerDesk® 8 Professional completely replaces Windows® Explorer with a wide array of File and File Management tools that let you organise, search, edit, delete, move, sort, view and copy files, including those found on digital cameras or MP3 players.


FTP – Access PowerDesk FTP in an easy-to-use, drag-and-drop interface and view FTP sites as though they were ordinary folders! Once you've set up your favorite FTP sites, connecting with them is just 1-Click away. PowerDesk now supports Secure FTP!

Sync Manager – Compare and synchronise the contents of two folders. Especially useful for work on files that are shared between two computers, it's also useful for backing up files and much more!

Size Manager™ – A powerful utility that shows you where and how the space on each of your drives is being used. Using Size Manager makes it easy to efficiently manage drive storage space.

Dialog Helper – Enhances Open dialog boxes and Save dialog boxes by adding a selection list for previously opened files and folders. It also provides a file viewer pane that supports over 150 file formats. Dialog helper also allows fixed dialogs to be easily resized.

Archive Manager – Easily compress and expand files from over 30 popular compression formats. See within archives to view entire file lists, selectively view the contents or extract selected files with a simple drag and drop operation.

File Finder – Quickly locate forgotten files with a powerful "search engine" type tool. Search by keyword, file type, size, or date range and see the "hits" displayed in a single-line reference. Search inside Zip files, archives, emails and attachments too!

Great File Management you won't want to live without!

Dual pane operation – Easily drag and drop files between folders and drives.
Layout Manager – Single click icons save complete layouts or add layout icons to your desktop, so PowerDesk starts up exactly where you want it to!
Add File Notes – With a right-click of the mouse, add notes to help organise your files – displayed in a mouse-over window or details view, easily be reminded what's in a file without having to open it!
Colour Customise Your File Folders – Easily customise and prioritise your file folders with eight distinct colours.
File Info Column – Display specific details about each file in the file pane viewer. MP3 files will show a song title and run time. Images will show the size and resolution. Word documents show document title and more.
MP3 Collection Management – Create and control portable MP3 playlist files as well as multimedia applications. Randomise feature ensures a complete random play order. Plus, cool tools to preview MP3 files, search for files, as well as rename and edit files groups in a single action.
File Viewer – Open the right file the first time! Improved file preview options allow users to view the contents of a file in a preview pane or as a thumbnail image. Browse files from digital cameras, whole directories of images, or MP3 players – where you can even view by artist name, album title, or your own personal notations!

Energise Your Desktop!

View file formats and convert images without the original software
Secure encryption to keep your documents safe from prying eyes
Folder synchroniser for easy sharing with other PCs, with your laptop, or for backups
Playlist Editor to play/manage your audio files
Plus- customisable toolbar, super search engine, zip compression, file annotation, mouse-over file summaries and lots more!

Privacy Protection

Encrypt files using PowerDesk encryption or DES encryption
File Shredder completely removes all traces of a file
Password protect your zip files
dotTech Quick Glance
PowerDesk 8 is a program that aims to be your go-to program for all your file management needs; it is a 137 MB bahamut that has many, many features ranging from FTP manager, archive manager, file finder and everything in between. In regards to functionality, PowerDesk 8 doesn't provide anything groundbreakingly unique; there are many other programs – often freeware – that provide the functionality of individual components of PowerDesk 8. For example, 7-zip is an excellent archive manager; FileZilla is an excellent FTP client; there are many viable Windows Explorer replacements out there, such as QDir; Heidi's Eraser or East-Tec Eraser 2009 delete secure files well; AxCrypt and TrueCrypt are go-to programs for encryption; GFI Backup has a sync component to it; Disk Space Fan is a "Size Manager" alternative; IrfanView is an excellent file viewer; FormatFactory can convert images; for desktop search, the built-in Windows Search is actually an excellent tool, and there is Everything for people that desire more; etc. The main attraction of PowerDesk 8 is not unique or special features but rather the fact that it provides multiple features in one package; an all-in-one, if you want to call it that.
That said, PowerDesk 8 will be attractive to people that like all-in-one programs; everyone else can save yourselves the headache of downloading a 137 MB program. (On a personal level, I prefer specialized software over all-in-one utilities.)
Freebie Details
To get PowerDesk 8 Professional for free, follow these simple directions:
Version being given out for free: v8.2.0.18 "Professional"

Free updates: Unknown

Supported OS: Windows XP/Vista/Win7

Download size: 137 MB

Note: Unless specifically stated otherwise, dotTech has not conducted a full, comprehensive review of PowerDesk 8 Professional. The content under "dotTech Quick Glance" is some quick, to-the-point advice to help advise dotTechies on PowerDesk 8 Professional. Please don't take the "dotTech Quick Glance" as a know-all, be-all regarding PowerDesk 8 Professional – it is only quick advice gained by giving PowerDesk 8 Professional a quick look.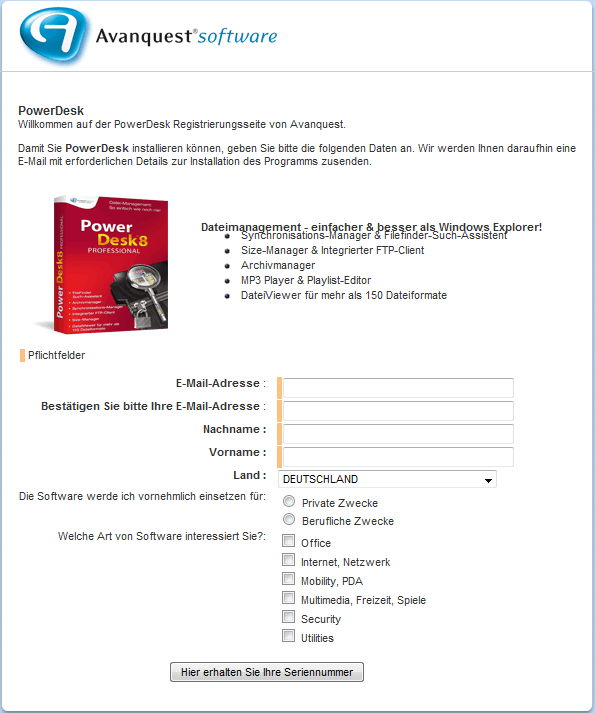 If you don't understand German, here is a rough translation of the registration page:

If you do it properly, you should get a confirmation message similar to the following:
Check the inbox of the e-mail address you registered with. Look for an e-mail from kontakt@avanquest.de with the subject of Ihr PowerDesk 8 Pro seriennummer: E-Mail-Bestätigung?. In the e-mail there will be a link you must follow to confirm you registration and get your serial key: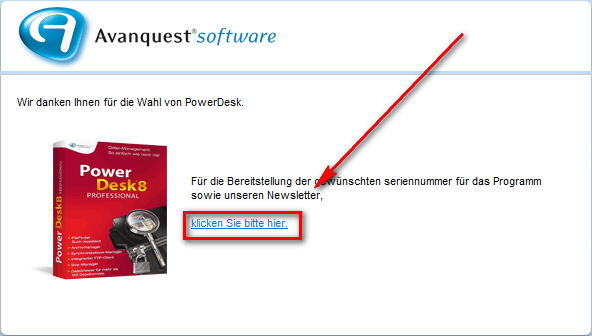 Once you follow the link, the webpage that opens displays your registration code to you:
Download and install PowerDesk 8 Professional. (The program is in English.) During installation you will be asked to register the program. Enter the serial number you received: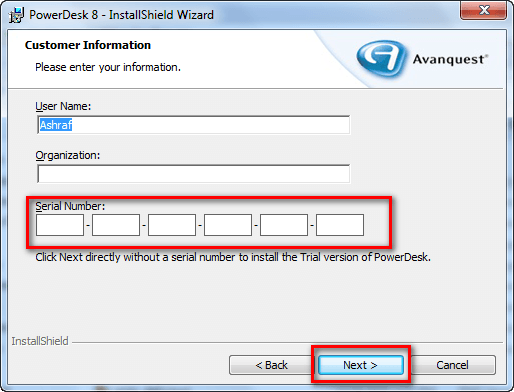 If you have any trouble getting PowerDesk 8 Professional for free, post below and other dotTechies or I will try to help.
Thanks krumpelt!
Related Posts