Software Description
Seeing as dotTech has featured East-Tec Eraser 2008 and East-Tec Eraser 2009 in the past, I am sure most dotTechies don't need an introduction to East-Tec Eraser 2010. However, for the benefit of those that don't know, the following is how I describe East-Tec Eraser:
[…]East-Tec Eraser is a program that allows you to securely delete files, data and user activity from your computer. You see usually when you delete something on your computer, it is not truly "deleted" in the sense that there are ways for the data to be retrieved. East-Tec Eraser allows you to delete files/data/user activity using secure erasing methods that make it near impossible for others to retrieve what you deleted.


The best way I would describe East-Tec Eraser is CCleaner + Heidi's Eraser into one program. With East-Tec Eraser not only can you securely delete individual files and folders but you can also protect your privacy by securely deleting your Windows (applications/programs, email, P2P, etc.) data and Internet (almost all browsers are supported – including Chrome and Opera) activity. To help you with the former task, East-Tec Eraser has an easy to use interface where you can add multiple files and folders at once to delete; you also have the ability to add entries in your right click context menu. To help you with the later task, East-Tec Eraser has a built in application detector that will detect all the possible applications that it can erase the activity history from automatically; if East-Tec Eraser does not find a particular application that you use, you have the ability to add custom programs (by designating files, folders or registry entries) to delete the history from.


East-Tec Eraser boasts the ability to erase anything using methods from a normal erase to a Gutmann wipe (35 pass) and everything in between, including methods that match and surpass US Department of Defense 5220.22-M standards. Heck if you don't like any pre-configured secure erasing methods you have the ability to create/define your own also (if you custom created method to securely erase files/data becomes popular and you become rich and famous, I expect royalties).


Additionally, you can use East-Tec to securely erase files/data/user activity that you previously deleted or use the built in disk wiper to securely wipe any hard drives (internal or external – including USB/flash drives) or select partitions.[…]
I don't know the specific details about what has changed since East-Tec Eraser 2009 (v9.5) and the new East-Tec Eraser 2010 (v9.9).
dotTech Advice
I have been a user of East-Tec Eraser since East-Tec Eraser 2008 and I recommend it in a heartbeat. While I don't use East-Tec Eraser's privacy cleaning capabilities – I leave that to CCleaner – I use East-Tec Eraser's secure deletion capabilities regularly and they work great. Sparing everyone the boring details, if you are looking for a secure deleting program, you should grab East-Tec Eraser 2010.
Freebie Details
To get East-Tec Eraser 2010 for free, follow these simple directions:
Version being given out for free: v9.9 ("2010")

Free updates: No

Supported OS: Supported OS: Windows Vista, XP, Server 2003, 2000, NT, ME, and 98.

Windows 7 is not officially supported in East-Tec Eraser 2010 but it seems to work just fine on Win7.
Download size: 7.7 MB

Giveaway time-frame: This giveaway is open until January 15, 2011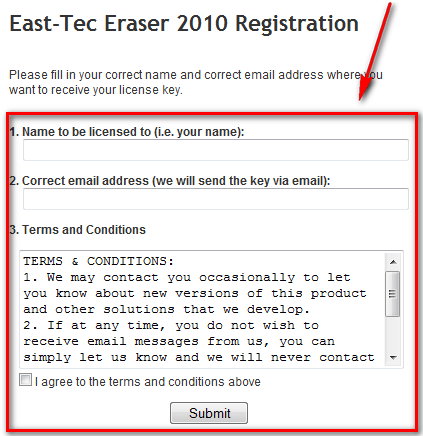 After you have registered, check the inbox of the e-mail address you registered with. Look for an e-mail from EAST Technologies Support (support@east-tec.com) with the subject of Confirmation required for your Softpedia registration of East-Tec Eraser 2010. In the e-mail there will be a confirmation link you need to follow:
Once you follow the confirmation link, you need to confirm you want to get East-Tec Eraser 2010: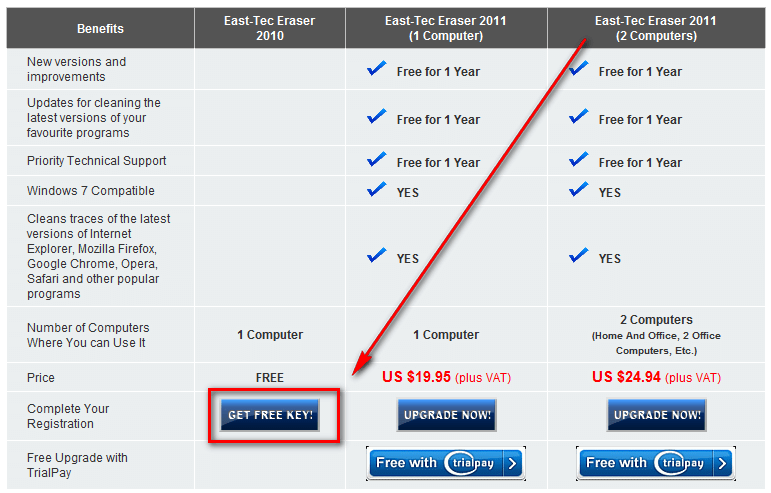 After clicking on GET FREE KEY, your registration details will be displayed for you right on the screen:

Download and install East-Tec Eraser 2010; then register it by doing the following: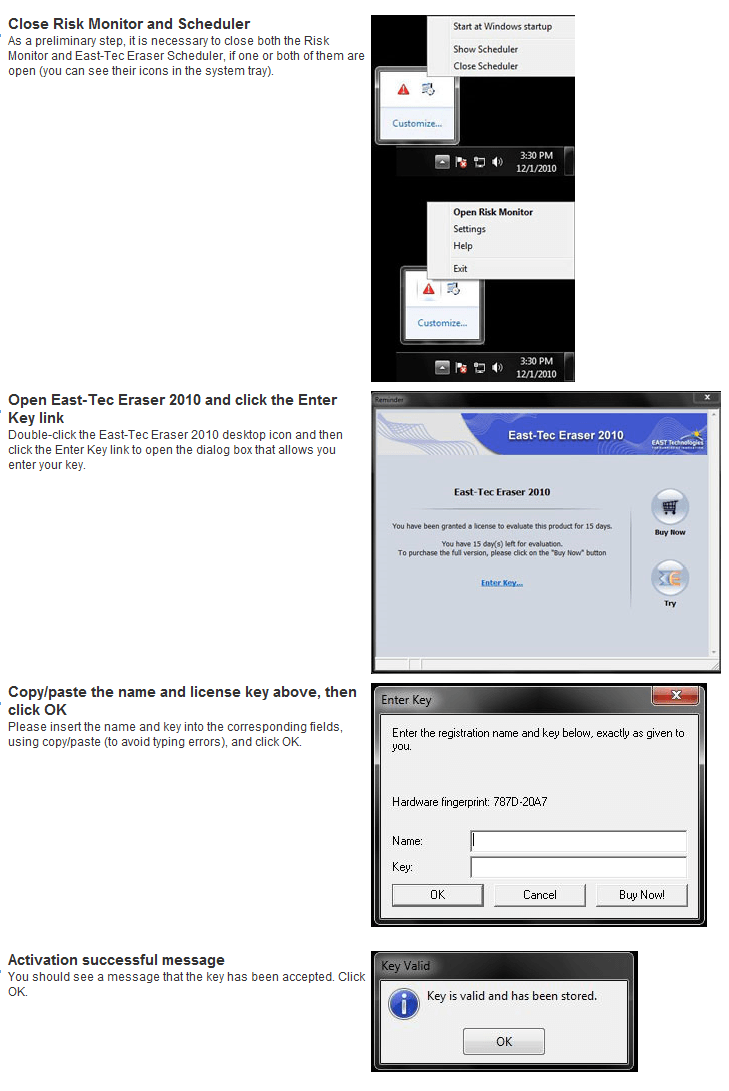 Make sure you close the Risk Monitor and Scheduler before registering as the directions say otherwise the registration will be reset next time you restart your computer.
If you have any trouble getting East-Tec Eraser 2010 for free, post below and other dotTechies or I will try to help.
Thanks Troll!
Related Posts