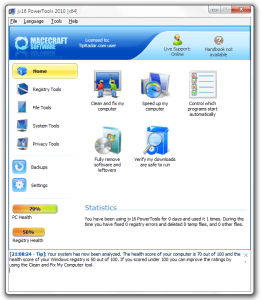 Update: This promotion is now over. Sorry to those that missed it! To avoid missing promotions in the future, consider subscribing to dotTech: RSS Feed | E-mail | Twitter | Facebook.
Software Description
jv16 PowerTools 2010 is a great freebie.  Here's what Macecraft, the makers of jv16 PowerTools, has to say about their flagship product:
Key Features

Cleans and fixes your computer
Uninstalls software and gets rid of all the left-overs
Optimizes Windows
Improves your safety by detecting potentially dangerous files
Improves your privacy
Recovers deleted files
Safe to use – automatic backup feature and numerous additional safety features
Multilingual user interface
dotTech Advice
Although Ashraf has never formally reviewed jv16 PowerTools, he has never been shy about showing how much he likes it:
Although never formally reviewed on dotTech, jv16 PowerTools is among the top-tier when it comes to system cleaning, maintenance, and optimization utilities. jv16 PowerTools is what I like to call a "focused" system utility. Instead of including a wide spectrum of tools, like some other system utility programs out there, jv16 PowerTools focuses on system cleaning, maintenance, and optimization features which range from registry management to privacy cleaning and everything in between.
Freebie Details
Version being given out for free: v2.0.0.986
Free updates: Unknown
Supported OS: Windows 2000+
Download size: 9.3MB
Giveaway time frame: 72 hours
Instructions
Download and install jv16 PowerTools 2010 like normal.   You'll be walked through a multiple-step setup process at the end of which the program will restart.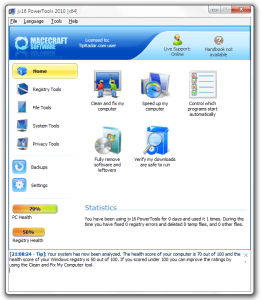 Then download the license file. It should contain a simple license.xbin file.  Just put this file onto your desktop for it to be detected automatically.  You may have to restart the program.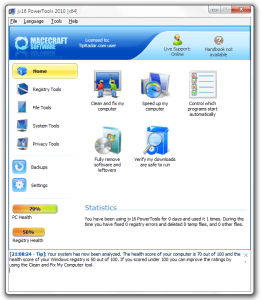 In what has to be one of the easiest giveaways ever, you now have a working copy of jv16 Powertools!  It's a great find and an even better freebie.
[TipRadar via WheezerTech]
Related Posts