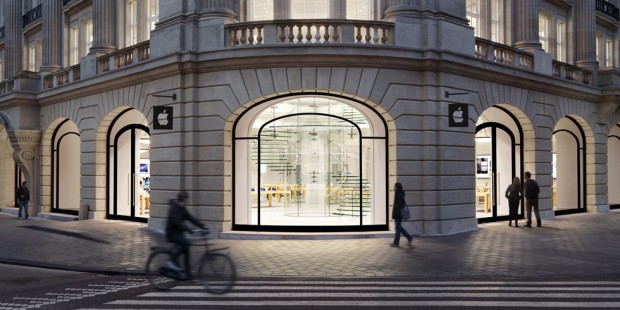 After being sidelined by electronics retailers for years, Apple decided to launch its own retail outlets in 2001. Today Apple has 373 Apple Stores worldwide and is one of the success stories in the retail industry. Apple moves about $420,000 work of products in a year per sales employee (which is roughly 10x more than Best Buy) and it has the highest sales per square foot ratio among stores with brick and mortar stores. However, even Apple is not immune to the economy.
Apple Store profits, while still rocking compared to other retailers, are down slightly compared to the same time last year. Despite having the cash to absorb any downturn, according to Apple tracking blog ifoAppleStore, Apple's new SVP of retail John Browett wanted to make retail operations leaner in order to boost profits. As such, it is being reported Apple not only cut back hours for some sales staff but also simply fired others. Having to pay employees less = more money for Apple's huge coffers.
Of course no one is asking Apple to keep incompetent employees on the payroll but it is being said Apple fired some full-time sales staff simply because they couldn't work part-time instead and cut back overtime for employees that didn't get fired, regardless of how diligent the employees may be.
Aside from the humane side of things, does Apple really want to downsize its retail stores when iPhone 5, and potentially iPad Mini, are about to hit stores? Any logical person would say 'no', seeing as how Apple Stores are famous for having huge (!) lines.
Initially, Apple, in its defense, came out and publicly denied firing people but did admit that some "staff changes" were made. Now, according to a leaked internal memo, Apple's John Browett admits "we messed up" and told retail management and staff that all changes made (e.g. cutting of hours, firings, etc.) are to be reversed immediately. So much for that juicy gossip.
Related Posts