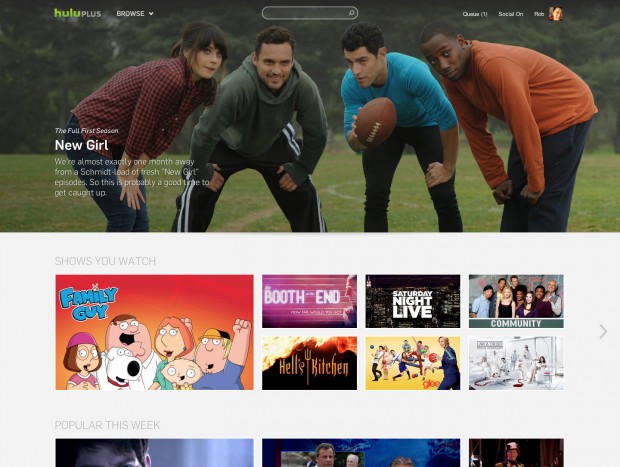 Hulu is an extremely popular website that allows people in the United States (sorry everyone outside the States) to legally watch movies and TV shows. One of the things I have always liked about Hulu over Netflix, a Hulu competitor, is its interface. While Hulu's design was never extremely flashy or noteworthy, it just worked; it allowed me to navigate to where I wanted to go and find what I wanted to find without having to break my finger scrolling. Now, however, Hulu has replaced the interface I, and many others, have come to love with a brand new design.
This new Hulu design is definitely more modern and clean than the previous design, and it gives Hulu a 'fresh' look. If you jump over to Hulu's hompage you will see a responsive design (i.e. it resizes to your browser window or screen resolution) that has a lot less text and a lot more images than the previous design. For a video website I suppose there is some merit to using more photos than text but my pet peeve about this new design is that it requires a helluva lot more scrolling than before, especially the homepage. In fact, this new Hulu reminds me a little of Netflix, who's most recent design I'm not a big fan of either.
Aside from just using more images than text, other features in this new design include a homepage filled with more recommendations than before (recommendations based on what is popular, what Hulu thinks you will like, editor's picks, specific genres, etc.) and a floating bar at the top of your screen which, admittedly, makes searching more convenient than before.
Overall I haven't yet made up my mind if I like this new interface better than Hulu's last one. I do like the fresh look but the extra scrolling… arggghhh! Hit up the link below to check out the new Hulu yourself and be sure to leave us a comment letting us know how you feel about the change.
Related Posts