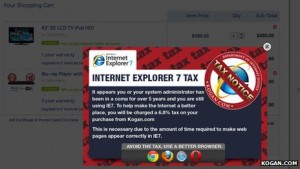 Even though Internet Explorer 10 (IE 10) is waiting to be released publicly, a portion of Internet users are still dwelling on the old versions of IE, the most popular being IE 7. Using older versions of IE not only forces security compromises, but also is a pain to website developers, as adding support to a older versions of IE requires more effort, for certain types of sites.
Kogan.com, an Australian online retailer website, has found an interesting way of alerting IE 7 users; and trying to force them to upgrade to newer versions of IE or to choose other browsers like Firefox, Chrome, Opera, or Safari.
Customers who shop on Kogan.com using IE 7 will be presented with an extra tax of 6.8% (0.1% for every month since IE7 has been released). Rusal Kogan stated that their website developers had to spend as much time adding support for IE7 as it takes for Chrome, Safari, and Firefox combined. He also noted that he didn't expect anyone to pay the charges, and rather believed that everyone would most probably upgrade to a newer version of IE or use an alternative browser.
This "Internet Explorer tax" has absorbed positive comments from Kogan customers and other bloggers.
[via BBC News]
Related Posts